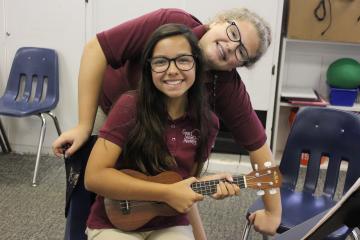 At GVA Salida, great pride is taken in the the robust and growing music program. Every student in kindegarten through sixth grade receives music instruction twice a week from one of three very talented music instructors.
In addition to general music for kindergarten through sixth grade students, GVA Salida offers Percussion Ensemble (5th-8th), Beginning Band (5th), advanced Band (6th), Jazz Band (5th-8th), Piano (Jr. High), and Wind Ensemble (5th-8th). These groups perform regularly in concerts, community events, and music festivals in California and Nevada.
Incorporated into all classes and ensembles is the guiding of students into the world of music not only through performing experiences on a wide range instruments, but also through composition and improvisation.